| Back to the latest recipes |
for 4 servings of the best white asparagus recipe ever
you need:

1kg white asparagus, fresh
150g salmon, smoked
150g prawns
40ml sweet mustard
2 twigs fresh dill
350g red oak leaf lettuce
20g butter
honey
sugar
salt

 Click here to get further info about this german white asparagus recipe.
A delicate salad made of white asparagus is easy to prepare. This time we would like to show you how we combine white asparagus with seafood.

White asparagus salad with seafood?

Yes, it works. Give it a try.

Instructions:
1. Peel the white asparagus. Fill a pot 2 litres of water, add a tablespoon honey, a tablespoon salt, about 20g of butter and bring to boil.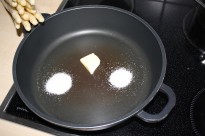 2. Drop the peeled white asparagus in the boiling water. We use white asparagus of an extra grade – about 16 to 26 mm in diameter. We use to boil these white asparagus spears of best quality for at least 10 minutes until they become tender.

3. Mix mustard, salt, pepper, honey and about a sprig dill finely chopped. In the meantime roast the prawns in some garlic flavoured oil.

4. Wash and dry the salad leafs and decorate them on a plate.

5. Place prawns and slices of smoked salmon on the bed of salad.
6. Place the warm boiled white asparagus spears on top of the salad and distribute the salad sauce over it. We like to serve it with fresh white bread and butter.
Have a nice meal – Enjoy!
---

White asparaugs salad can be served with
bread
butter
beer

See also:
– How to cook white asparagus
– White asparagus soup
– White asparagus wrap
Tags: Fish recipes, White Asparagus