| Back to the latest recipes |
for 4 servings of Mutzen you need: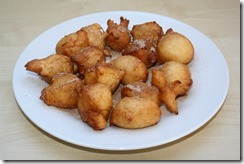 250g all purpose flour
250g Quark
4 tbsp. sugar
1 teasp. baking powder
8g vanilla sugar
3 midsize eggs
powdered sugar
cinnamon powder
750ml sunflower oil

Click here to get further info about this New Year's recipe.
Mutzen are typical for German New Year and german carnival:

(Quark and it's substitutes.)
1. Fill the Quark in mixing bowl.