| Back to the latest recipes |
for 4 servings of the best white asparagus recipe ever
you need:

1kg white asparagus, fresh
150g salmon, smoked
150g prawns
40ml sweet mustard
2 twigs fresh dill
350g red oak leaf lettuce
20g butter
honey
sugar
salt

 Click here to get further info about this german white asparagus recipe.
A delicate salad made of white asparagus is easy to prepare. This time we would like to show you how we combine white asparagus with seafood.

White asparagus salad with seafood?

Yes, it works. Give it a try.

Instructions:
1. Peel the white asparagus. Fill a pot 2 litres of water, add a tablespoon honey, a tablespoon salt, about 20g of butter and bring to boil.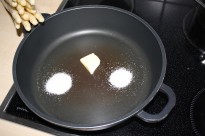 ¬†¬† (more…)