Makes 8 to 12 servings: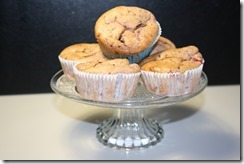 Ingredients for raspberry muffins:
50g butter
1 egg
100 g flour
35 g sugar
2 tsp.. vanilla sugar
1/2 tsp.. baking powder
250 g raspberries, frozen
Click the picture to get more info about this german dessert recipe.
Preparation of this raspberry muffin recipe:
Pour the flour in a bowl, add all the other ingredients and mix them to a fine dough. Put the dough in the fridge.

Place paper muffin cups in the deepenings of the muffin form

Fill the dough into the muffin form.

Preheat the oven on 180°C (356°F) and bake the muffins for about 20-25 minutes.

Let the muffins cool down.

Enjoy your delicious raspberry muffins!
Click here to get the recipe for sour cream tangerine muffins.
---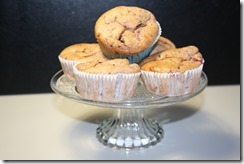 This muffin recipe can be served with:
coffee
espresso
iced cocoa
What is your favorite ingredient for baking muffins?
Do you prefer fruits, vegetables or something else?We would appreciate if you would post your favorite ingredient in our comment section.
Today we had about 15° to 17°C (60° F) and an overcast sky. The ideal conditions to bake something for the teatime.
In our household we have the habit to have a teatime (with cocoa, tea or coffee and any cake / cookies) at about 4 a.m. when it is possible after we get home.
We normally stand up early in the morning. To have some caffeine / theobromine in the afternoon gives us some energy for the rest of the day.
Although the strawberry season started, we decided to use some frozen raspberries that were left over from garnishing ice cream.
Fact of the Week about Germany:
The maypole tradition in North-Rhine-Westphalia, Germany:
A popular tradition in our part of Germany, the Rhineland, goes back to 13th century (affirm some sources). In the night between of 30th of April and 1th of May young men place a fresh cut down birch tree in front of the house of their beloved.
On the 1th of June, one month later, the men clean up the tree and their beloved rewards their effort with an invitation to a dinner or a crate of beer.
The maypole tradition is celebrated in different variations throughout Germany.
Tags: Baking Recipes, Vegetarian Dishes