| Back to the latest recipes |
Ingredients for 3 servings of potato pancakes with applesauce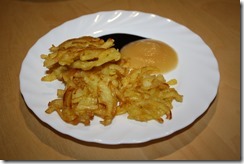 1 1/2 kg waxy potatoes
1 big onion
2 eggs
1 tsp. salt
generous pinch of nutmeg
optional flour
1 tbsp. oil per pan
applesauce optional

Click here to get further info on this german recipe for potato pancakes with applesauce.
Preparation:
1. Grate the potatoes over a colander into very fine stripes that the water can drain off.
2. Press out the potatoes and grate the onion into very fine stripes and mix them with the potato stripes.

3. Now fold in the other ingredients except the flour.
Depending on whether the dough is wet or not add some flour to get a fluffy dough, not too compact.
4. Preheat the oiled pan and put 3 tablespoons of the potato dough into the pan.

5. Flatten the dough into a pancake with the thickness of 0,5 to 1cm.

6. Fry the pancake golden brown on both sides, the borders have to be crunchy.
---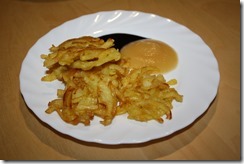 Potato pancakes with applesauce can be served with:
beet syrup
buttered brown bread
"Korn" (german schnapps)
| Back to the blog |
Tags: Potatoes, traditional german cuisine, Vegetarian Dishes