| Back to the latest recipes |
Ingredients for 5-6 yeast dumplings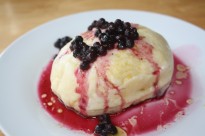 500 g flour
enough yeast (Germany 42 g)
2 eggs
300 ml milk
pinch of salt
50 g butter
2 tbsp. sugar
Click here to get more info about this yeast dumpling recipe.
Foreword on yeast dumplings:
To be honest we like yeast dumplings very much especially as a dessert in the colder season. In Germany we have several interesting recipes on how to prepare yeast dumplings. Typical is the one with melted butter, stuffed with something and lightly powdered with a poppy seed and sugar mixture. You can buy them in nearly every german super market – as frozen yeast dumplings stuffed. Do you know any other yeast dumpling recipe from your home country that is slightly different from the way we prepare them? Please post a link or feel free to email us recipes.
We hope you enjoy this recipe and keep up reading our blog.
Preparation of yeast dough and yeast dumplings:
1. Mix out of 250 ml handwarm  milk, yeast,  flour, sugar, salt and yeast the yeast dough.
2. Then let the yeast dough rise for about 40 minutes.

3. Afterwards form 6 yeast dumplings out of that yeast dough of about baseball size and let them rise for another 10 minutes.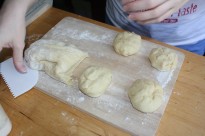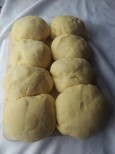 4. Now take one (or two) pot that is wide enough to gather all yeast dough dumplings on it's bottom and melt the butter in it.
5. Add 125 ml milk, place the yeast dough dumplings in that mixture, close the pot with the lid and simmer the yeast dough dumplings for about 20 to 30 minutes.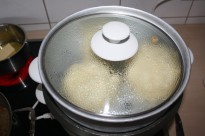 6. Keep the lid on the pot until the yeast dough dumplings are ready.
7. Serve the german yeast dumplings with melted butter. You will love this recipe.
---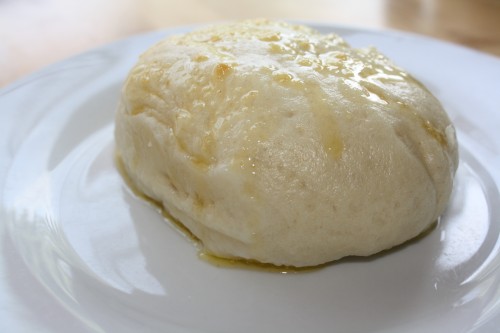 Yeast dumplings can be served with:
blueberries
plums
damsons
sauerkraut
poppy seed and powdered sugar
butter
vanilla sauce
| Back to the latest recipes |
Tags: traditional german cuisine, Vegetarian Dishes, Yeast dough recipes