| Back to the latest recipes |
for 4 servings of the best white asparagus recipe ever
you need:

2kg white asparagus, fresh
150g flour, all purpose
375ml milk
20g butter
1 tbsp. sunflower oil
salt

Click here to get further info about this german white asparagus recipe.
Today we would like to present you Al's favourite white asparagus recipe.

Can you imagine to combine white asparagus with pancakes?

Of course, there are a lot of variations on how to prepare white asparagus. But my favourite white asparagus recipe is to combine it with pancakes, sauce hollandaise and cooked ham.
Instructions:
1. Wash and peel the white asparagus. Boil the asparagus spears for at least 10 minutes
(if you would like to optimize your technique for boiling white asparagus please read our further info)
2. In the meantime prepare pancakes (1 pancake per 4 spears of white asparagus).
Melt some butter, adjoin a teaspoon of sunflower oil in an appropriate pan and bake pancakes.
(Ingredients for our pancake dough: 150g flour, 2 eggs, 375ml milk, pinch of salt)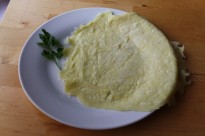 3. Place a slice of boiled ham on a fresh pancake.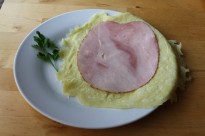 Spread some hollandaise sauce on pancake and boiled ham.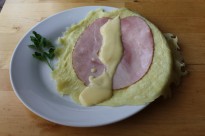 4. Lay three to four white asparagus spears on top and make a wrap.

Do you know a recipe from your home Country for wrapped white asparagus?

Have a nice meal – Enjoy!
---

The best white asparagus recipe ever can be served with
mineral water
kefir
fruit juices

Tags: White Asparagus