| Back to the latest recipes |
for 4 servings of German Cheesecake you need: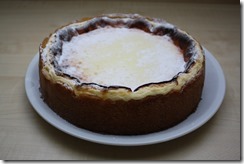 for the cake base:Â 
200g all purpose flour
100g sugar
1 tbsp. baking powder 
8g vanilla sugar 
1 midsize egg
75g butter (optional margarine)

Click here to get further info about this German cheesecake recipe.
for the stuffing:
1kg Quark (curd cheese)Â 
150g sugar 
150ml sunflower oil
8g vanilla sugar
2 midsize eggs
1 tsp. lemon juice
500ml milk
40g custard powder
GermanGerman Kaesekuchen:

One of the most liked delicacies of German amateur bakery (by the way one of Al's most favorite cakes until now) is the cheesecake above. You might wonder about the amount of Quark that is used for this cheesecake but the cake is neither to heavy nor to fat. (Quark is a typical German dairy product – if you do not find it in your regional grocery store under the name Quark please read the linked article on Quark and it's substitutes.)
Kristin prepared this Kaesekuchen last weekend. It is not a seasonal cake recipe and she usually serves it maybe 2 or 3 times throughout the year. It becomes even better when you let it rest for a night in the fridge. Now enough of blabla… here comes the instruction how to prepare this very best German cheesecake.
I. Preparation of the cheesecake base:

1. Mix  – flour with sugar and baking powder in a mixing bowl.